Heartical rhythm builder, Basque Dub Foundation leader and staunch roots traditionalist Inyaki Yarritu has several new releases out this month.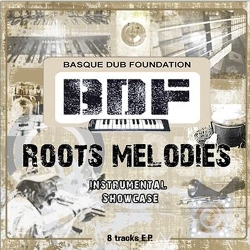 The first is the eight track EP 'Roots Melodies', a group of instrumentals boasting Sly Dunbar and Style Scott on drums and Earl Wire Lindo on keyboards. Unsurprisingly, they recall the golden age of organ B sides from the seventies. Inyaki describes the sound as, "Hardly ground-breaking or revolutionary stuff or even fashionable at the moment but...very nice (well...I like it!)".
He's also releasing two 12 inches. One is Dreadful Time/Rasta Calling on the Kaf Island Label, featuring Nattykaf and Nereus Joseph on vocals. The other is a cover of Augustus Pablo's Lightning and Thunder on One In The Spirit.
2010 looks to be a good year for BDF family. Inyaki's old friend Roberto Sanchez of A-Lone productions is due to release Alpheus' new rocksteady and ska album 'From Creation' later in the year.
'Roots Melodies' is out on April 26th vinyl. We invite you to ignore fashion and listen to these great tunes…