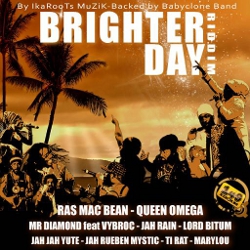 France based label, 149 Records, presents the "Brighter Day Riddim" from IkaRoots Muzik and the Babyclone Band. This very colourful and vibrant one-drop riddim just may be considered as one of the strongest from the first half of 2010 as it really brings a very crisp and heavy sound to the masses and does so through the voices of some very strong vocalists as well.
Highlighting the Brighter Day Riddim is the wicked Guyanese singer, Ras Mac Bean, with the title track and Trini Roots empress, Queen Omega, with the epic 'Last Days', but they aren't the only artists worth paying attention to here. Listeners should also enjoy efforts from well solid lights such as Mr. Diamond [alongside Vybroc], Jah Reuben Mystic, the big voiced and impressive Jah Rain and even Ti Rat from out of Réunion Island.
This excellent set is to be released via etailers worldwide as well as on limited CD including See Dem Grow riddim later this month.