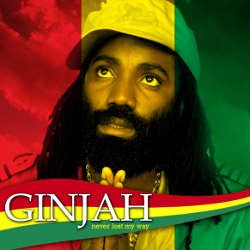 Ultra impressive Hanover, Jamaica native Ginjah finally makes his long awaited debut with the album 'Never Lost My Way' for producer Kemar 'Flava' McGregor's No Doubt Records. This album is certain to grip the attention of the masses as Ginjah has been one of the most popular up and comers for the last few years and is thought to have a great potential which is evident throughout this fifteen track set.
The album is built on the very strong pieces the former Beres Hammond disciple has done on the various very popular riddims from McGregor's catalogue, such as the title track, which was a very big hit across the Rub-A-Dub Riddim, Time, which comes through on the recent Classic Riddim, Welcome To My World from the Drop It Riddim and also on board is the earlier hit Music Alone.
Ginjah's very hot 'Never Lost My Way' album can be purchased right now, exclusively at Flava's website, www.flavamcgregor.com.