Jamaican female singjay artist Vivienne Stephenson, better known by her stage name Tanya Stephens, whose career emerged in the late 1990s with hits like Yuh Nuh Ready Fi Dis Yet and It's a Pity is taking the novel step of releasing her latest album 'Infallible' as a free download.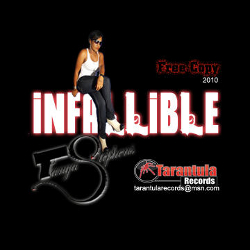 The Tarantula Records' 'freebie', which reportedly was always been planned as a give away, with no short cuts in the production process and has "evolved over years" is available via bymriddim.com.
The reasoning behind this, according to Stephens herself, as reported in the Jamaica Sunday Gleaner is that "if I had gone the customary distributor route all I would have recouped anyway would have been production costs".
She then went on to point out that as we are going through a "different" economic climate by giving away the album she hoped to show support to the people who have supported her through the good times. She also added "I have a lot to give thanks for; I like to think I am a grateful person. I can't overlook the fact that I am lucky. Nobody is obligated to like me or support me."
To get your free copy of Tanya Stephens' 'Infallible' album visit here.