The foundation UK group Black Slate, famous for deep roots singles like Sticksman and Amigo, are back!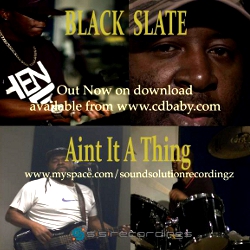 And to celebrate they have cut - not one - but two - tunes at Hackney's Sound Solution studios for your listening pleasure.
"Black Slate reformed a year ago after founding members Elroy Bailey and Desmond Mahoney visited Sound Solution studios for a birthday recording session for Sir Collins AKA Sir Collins Music Wheel", says Sound Solution studios Byron Mitchell. "They then joined up with Roddy 'Horace Burke' and Delroy Pinnock. They rehearsed for a few months then in October last year we decided to record them, the results are Ain't It A Thing and Postcode Gangster."
Ain't It A Thing with Delroy Pinnock on lead vocals, is a dreamy slice of lovers niceness about new love affairs rising from the ashes of past mistakes.
The Sticksman-like Postcode Gangster, this time sung by Elroy Bailey on Ras Michael's ominous None A Jah Jah Children rhythm, is the Hackney outfit's comment on the tragic and senseless turf wars raging in their area.
The songs were composed by Elroy Bailey, Delroy Pinnock, Desmond Mahoney, and Horace Burke, recorded by David Brinkworth and mixed by Will Mount.
Aint It A Thing is out now to download, while Postcode Gangster is due for release on July 7th 2010.