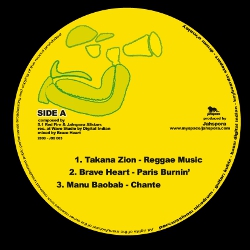 The label and soundsystem Jahspora from Paris, France, has just released a brand new 12'' from roots to dubstep vibes. First, the rootsy A side features three tracks including two fresh cuts by Jamaican singjay Braveheart and Takana Zion. Guinean singjay chants his love for « Reggae music » , while the underrated Braveheart from St Ann gives a special shout to French people with his anti-Sarkozy government tune « Paris is Burning ».
On the flip side, we have a blowing melodica instumental by the talented Far East, followed by Jahspora All Stars « Burning dub » and Step Art' dubstep remix « Unifikation ».
An international and eclectic 12'' mixed by Braveheart available now in regular shops.
In the same time, Jahspora releases a mellow new 7'' featuring Ras Mykah and B High from Uplift Records. Check out their website for more information.