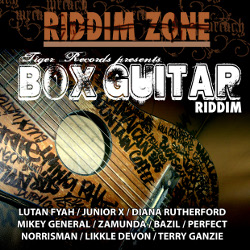 After dropping big riddims such as the Wharfedale, Ol' Sitt'n, the recent Arena and, most notably, the Sufferah, Tiger Records is at work again with their latest composition, the crystal clear Box Guitar Riddim. This captivating piece is yet another winner on the hands of Sherkhan and company, as he somewhat quietly continues to prove himself one of the strongest Roots Reggae producers in the game today.
The Box Guitar Riddim features a very healthy variety of artists taking on the vocal duties. Besides familiar and expected names such as the aforementioned Perfect, Lutan Fyah, Junior X (whose tune, 'Cross Me Heart' sounds downright damaging) and the 'Tigress', Diana Rutherford, also present are a few surprises - Surprises such as longtime solid veterans Mikey General and Terry Ganzie. The riddim also marks the introduction of Bazil, a French born chanter who recently signed up with Sherkhan and Tiger Records.
Want it? Grab up the first edition of Tiger Records' new Riddim Zone series, The Box Guitar Riddim, at your favourite online retailers beginning June 8.