Apparently the famed Austrian label, Irievibrations, has been experimenting with time travel as that may very well be the only way to explain their most interesting and colourful latest release. The label known for bringng to the masses projects like Perfect's "Born Dead With Life" album in 2008 and last year's "Modern Revolution" from bros. Delus & Konshens, now drops in (probably in an El Dorado) with the fittingly titled Roll Out Riddim.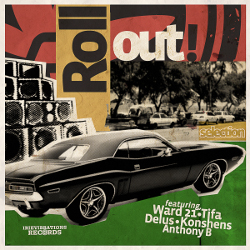 The piece sounds straight out of ~1975, surely before any of the artists who voice it were born. Those artists are the aformentioned Delus & Konshens who take solo shots at the Roll Out (Konshens in an extremely X-Rated fashion). The brothers are joined by the Ward 21 crew who delivers, in 'No Love', one of the strongest pieces on the riddim and in their own recent history; there's also the very curious 'Bill' from a resident of the Ward, Tifa, which has to be heard. And left to be the voice of reason is veteran star Anthony B who offers just that with his effort, 'Hail Jah'.
Irievibrations sends on the Roll Out Riddim digitally in June. No word yet on when it'll be available on 8-Track, but stay tuned.