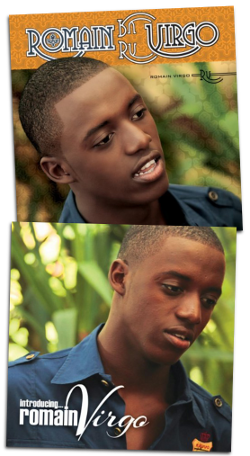 Over the last couple of years or so, Romain Virgo's is a name which has risen from ultimate obscurity and the unknown to being one of the most promising young singers around. The former winner of The Digicel Rising Stars television program in Jamaica, Virgo has proven himself a bonafide hitmaker and in doing so has made his one of the most anticipated of debut albums in Reggae music recent history. Thus, it was to virtually no one's surprise that the St. Ann born singer linked up with the industry leading VP Records to make his presence known.
The label now brings forth Romain Virgo's self titled full length release after pushing a digital EP ("Introducing Romain Virgo") earlier this year. If you were a fan of the singer's work up until this point, you're going to be more than pleased with the results as featured on the album are big hits such as the definitive 'Mi Caan Sleep', the heavy 'Who Feels It, Knows It' and 'Wanna Go Home [Rain Is Falling]'. Also, be on the look out for potential winners such as the outstanding 'Customer Care'. Of course, helming quite a bit of the production duties is the venerable Donovan Germain and his famed Penthouse Records.
June 8 is the release date for the self titled debut of the sweet singing Romain Virgo from VP Records and it will be available on physical release as well as digitally.