Hopefully fans, at the very least, recall the absolutely beautiful iLove Riddim from a few years back, which was produced by Teka and company at the German based label, Rootdown Records. Since then, the label has been on a tear doing various projects, albums and riddims featuring some of the biggest names in the genre and with nearly half of 2010 complete they're at it again. Rootdown Records presents the big and bad funky ska sounding Kokoo Riddim.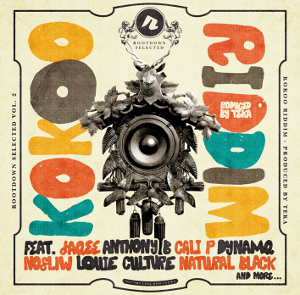 The composition is certain to get listeners up and moving with its swinging vibe and brought along to ensure that the fans are moving are some very interesting vocalists. Familiar names such as Anthony B, Natural Black, Winston McAnuff and a resurgent Louie Culture are joined by the likes of always welcomed UK veteran Lloyd Brown, Swiss based chanter Cali P from out of Guadeloupe, impressive sweet singing Sudanese artist Dynamq, Smiley (who chimes in with the title track from his recent EP, 'Lively Road') and even the younger McAnuff, Matthew. Still, big fans will probably recognize the riddim from Kokoo Girl, a tune from impressive Germany based African star, Jaqee, which is also on board along with others as well.
Want to get your hands on this impressive set? You can do just that digitally on June 11.