Directed by Emmanuel Bonn, 'Jamdown' is a film that takes you on a journey back to the delights of 1980's Kingston, Jamaica and London's Shepherd's Bush, following legendary Toots Hibbert and The Congos. The film contains some of the only known early footage of The Congos, performing tracks from their legendary 'Heart Of The Congos' LP which was produced by Lee Perry at his Black Ark studio at the height of both their careers.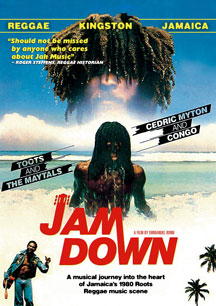 The original release of the film was limited to France and therefore remained undiscovered by the rest of the world. Since then over the last 30 years it has become what some reggae footage collectors often refer to as "The holy grail of reggae films" due to its rarity and difficulty in finding an original copy of the film, now though it is to made available to own officially on DVD.
Noted Reggae Historian/Author Roger Steffens has described 'Jamdown' as "a melodic time machine that transports us magically to a time of massive creativity as reggae was emerging to the outside world. We see some of its most rootical exponents at the height of their powers. The film's re-emergence after three decades is almost miraculous, and it should not be missed by anyone who cares about Jah Music."
The release date is due for 27th July in the USA, but you can pre-order a DVD copy with 25% discount from www.seeofsound.com. To give you a feel for what the film is about you can watch the trailer :
In the UK to herald its release there will be a special screening at the Barbican, as part of The Blaze weekend, on 17th July. Helping to make the event just a bit more special stars of the film Toots + The Congos will be performing after the film along with Lee Perry and Max Romeo.
Blaze is an annual summer series that showcases some of the best music from across the globe, with a range of events in the Barbican and in venues and outdoor spaces across East London. The schedule for Saturday 17th and Sunday 18th July looks like this:
Saturday
1400 The Harder They Come (Barbican Cinema 1)
1800 Jamdown (Barbican Cinema 1)
1930 Toots & The Maytals + Lee Scratch Perry & Max Romeo + some or all of The Congos (Barbican Hall)
Sunday
1300 World in Motion Drummers (Shoreditch Festival)
1500 Roots of Reggae featuring The Viceroys, Gilzene and The Blue Lights Mento Band and Bomba Estéreo (Shoreditch Festival)
1930 Youssou N'Dour: From Dakar to Kingston with special guests Inna De Yard with Cedrick Myton (Barbican Hall)
For more details about each event/gig visit the blaze website - www.barbican.org.uk/blaze/whats-on
Shoreditch Festival is a free festival that takes place in Shoreditch Park over the same weekend, visit their website www.shoreditchfestival.org.uk/
You don't need tickets for the Shoreditch Festival events, just turn up and enjoy.