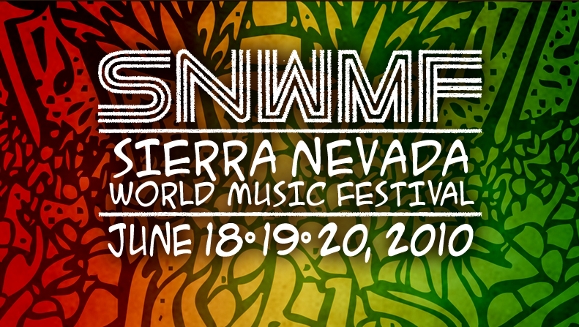 The 17th annual Sierra Nevada World Music Festival (SNWMF), produced by Epiphany Artists, takes place between June 18th & 20th 2010 at the Mendocino County Fairgrounds, 14480 Highway 128, Boonville, California, 95415, just 35 minutes West of Ukiah.
The line up features some great artists from roots, dancehall, modern reggae and ska across two stages plus a selection of sound system DJ's. Confirmed acts from the reggae community appearing include The Skatalites, Big Youth, Gregory Issacs, Alborosie and Rootz Underground, who will in fact be appearing on both Saturday and Sunday.
Along with these there is also a diverse selection of artists from around the world including Fat Freddy's Drop, a seven-piece band from New Zealand whose musical style has been characterized as any combination of dub, reggae, soul, jazz, rhythm and blues, and techno, Toubab Krewe, an American instrumental band which fuses the music of Mali with American musical styles (particularly those of the Southern United States) and from Senegal is Youssoupha Sidibe, a master kora player and mystic Sufi chanter.
The whole festival is very family and fun orientated with a Kidz Zone hosting educational and multi-cultural entertainment throughout the day. The program of activities designated for the younger generation are Arts & Crafts projects and a daily Kids Parade that will be led by the wonderful Samba Stilt Circus, a troupe of stilt performers. Also Trinidadian performer Asheba returns to the Village stage Kidz Zone this year performing his unique blend of high energy reggae and calypso. There is also Sageman Drums workshops open to all ages in the Drum Temple.
Aswell as the music the festival plays host to several non-profit organizations and a diversity of ethnic food vendors from Indian to Ethiopian as well as vegetarian and sustainable raw food vendors. Crafts in the international bazaar in the village area are curated to present a unique array of items from around the world and a zero waste initiative is vigorously pursued to manage the impact of the festival on the environment.
The full list of acts and start times is as follows
Friday, June 18th
Saturday, June 19th
Sunday, June 20th
Valley Stage:
Valley Stage:
Valley Stage:
10:00
8:00
6:30
Baaba Maal
Playing For Change
Toubab Krewe
10:15
8:00
7:00
5:30
4:30
3:45
2:45
1:00
Fat Freddy's Drop
Don Carlos
Gregory Isaacs
Alborosie
Ken Boothe
Big Youth
Soul Syndicate
Ooklah The Moc
8:45
7:00
5:30
4:30
3:30
2:15
1:00
Barrington Levy
Tony Allen
Max Romeo
Marcia Griffiths
Queen Omega
Rootz Underground
Sambada
Village Stage:
Village Stage:
Village Stage:
10:15
8:45
7:45

6:00
The Skatalites
Johnny Clarke
Friends of Soul Syndicate
Judah Eskender Tafari
10:00
8:15
6:45
12:00
11:00
Rootz Underground
Sarazino
Youssoupha Sidibe
Jahdan Blakkamoore
Messenjah Selah
8:30
6:45
5:15
12:30
11:00
Rubblebucket
Vernon Maytone
Rey Fresco
Lloyd Brown
Queen Makedah
In The Dancehall:
In The Dancehall:
11:00
8:00
David Rodigan
Comanche High Power
11:00
8:00
Stone Love
Ras Kush
Lineup & Starting Times Subject to Change