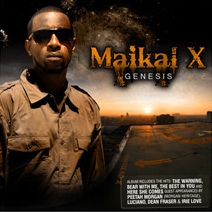 Simply put - One of the most promising young talents in all of Reggae music, Dutch star Maikal X, is about to make his first contribution to the betterment of Reggae shelves around the world by dropping what has to be one of the most anticipated debut albums of the year, 'Genesis'. Over the past couple of years or so, and particularly within the last year, Maikal X has established his name as one of the strongest singers in the game and in doing so has made this project a really big deal for fans.
'Genesis' comes via the same Rock 'N Vibes imprint which listeners should know from having previously put Ziggi Recado on the map and if that was any indication, this one should be big. The album features previous grand hits such as Best In You, Warning and Bear With Me and also potentially mouth watering combinations alongside Luciano, Peetah Morgan and Hawaiian songstress, Irie Love.
Do a good thing for yourself and get your hands on what is sure to be a big scorer in Maikal X's 'Genesis' album from Rock 'N Vibes, starting June 25.
Video
Video: Maikal X - Here She Comes