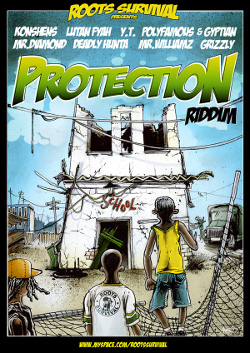 French label Roots Survival Productions may not be exactly a household name to any degree, but if they keep pushing material like this, that'll probably change in the not too distant future. The label brings forth the Protection Riddim and does so with a very heavy and downright intoxicating vibes which is certain to impress the vast majority of modern Roots Reggae heads who take it for a spin.
Fortunately, the Damilistik and company at Roots Survival have enlisted a very interesting and colourful assortment of artists to display the riddim in its best possible light. Jamaican stars Konshens, Lutan Fyah and the currently blazing Gyptian (alongside Polyfamous) all take a turn on the Protection Riddim as do UK up and comers the outstanding Mr. Williamz, YT and Deadly Hunta.
On June 18, you can pick up the Protection Riddim from Roots Survival digitally and the project will also be available on singles soon thereafter.