A while ago, one of Reggae's most respected and reputable producers, Frenchie of the Maximum Sound imprint, released [via Greensleeves] an excellent compilation by the name of 'Bobo Revolution'. At a very healthy twenty-one tracks deep, the release was very strong and it featured some of the biggest names in the genre of modern Roots Reggae music. Well, although that release was thought to be somewhat random, despite the fact that Maximum Sound had worked with Greensleeves quite regularly, apparently it wasn't so random after all.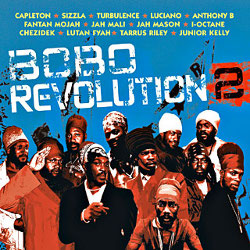 Fastforward a couple of years and lo and behold, here's 'Bobo Revolution 2', another twenty-one track long set for Greensleeves, again featuring some of the biggest names in the business voicing over Maximum Sound recent riddims (Jah Powers, Vineyard, The Session, I Know My Herbs, Matches Lane, Rebellion 2010, Back A Yard and Praise Jahovia). Featured on the album is an overabundance of the biggest names in the genre: Sizzla Kalonji, Luciano, Lutan Fyah, Capleton, Chezidek, Anthony B, Tarrus Riley, I-Octane, Fantan Mojah, Jah Mason, Junior Kelly and more! With a roster like that, 'Bobo Revolution 2' rather easily becomes one of the biggest and most packed compilations of 2010 and maybe one of the best.
Of course that remains to be seen, however, but fans can see for themselves when 'Bobo Revolution 2' hits stores worldwide on July 5.