Lustre Kings Productions, the American based Culture Reggae label, that helped develop artists like Jah Mason, Turbulence and Lutan Fyah early in their careers, while also voicing heavyweights of the era like Sizzla, Luciano, Capleton and the like, have announced that are to release an album from Noble Society featuring Jahdan Blakkamoore entitled 'Mama So Divine'.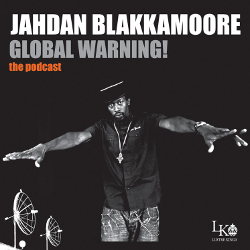 The album is said to have been composed after a trip to Africa by front man Jahdan and infuses an acoustic sound in the vein of Bob Marley's Redemption Song, as well as taking elements from his time spent with musicians from Mali.
Jahdan Blakkamoore and Lustre Kings have also just made available for free download a mix tape / podcast - called 'Global Warning!' - of his forthcoming solo album 'Babylon Nightmare' as well as posting a behind the scenes video.
This album sounds more dancehall / club orientated with Jahdan fusing Reggae, Dancehall, Hip Hop, Dubstep and R&B for a very contemporary vibe that could find wide spread appeal.