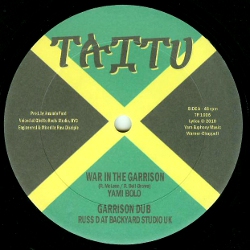 From England to Jamaica via Brooklyn, New York. That's the route the new 10'' out of Brooklyn's Taitu label took to be released.
This new release brings JA singers Yami Bolo and Cologne alongside UK roots and dub producer Russ Disciple.
Side A features Yami's wicked War In The Garrison, about the recent situation in Kingston. On the flip side, the underrated Cologne (previously known as Singing Cologne) gives his version with the herbalist No Pull Over. Both artists have voiced Russ D's relick of his 90's African Soul riddim. Available now on 10'' at all good shops !