For more than 30 years, dub plates - exclusive, one-of-a-kind mixes for sound systems - have been a "hidden" part of reggae's history. Pressure Sounds' next release will showcase some of that hidden history, Black Ark style.
Although Lee Perry's distinctive, eccentric productions from the Black Ark stood outside of the reggae mainstream, Scratch produced many dub plates between 1973 - 1979, creating exclusive, mind-bending mixes that have never been heard since.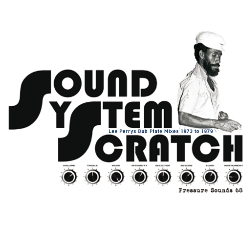 'Sound System Scratch' features 19 Black Ark dub plates as well as a treasure trove of rare photographs by Dennis Morris, archive material and sleeve notes by well-known reggaeologist Jeremy Collingwood. Although Scratch was well known for remixing some of his favourite rhythms over and over again to create several different versions, these rare dub plates will come as a revelation even to the most hardcore Scratch fans. It promises to be one of the most exciting Lee Perry collections for many years.
From the Pressure Sounds website: "The exclusive mixes showcased on this release have never been heard before outside of sound system dances. Some will be familiar through their commercial incarnations, such as 'Bucky Skank', 'History' and 'Groovy Situation', but here they have been pushed and pulled, coaxed and cajoled in hitherto unexplored and previously unimagined directions. This is music from a man coming to the end of his tether."
1. Dread Dub Plate - Lee Perry
2. Lama Lava Mix One - Augustus Pablo & The Upsetters
3. Groove Dubber - The Upsetters
4. Groove Rider - The Upsetters
5. Jucky Skank - The Upsetters
6. Chim Cherie - The Upsetters
7. The Rightful Organiser - Lee Perry & The Upsetters
8. Stagger - Lee Perry & The Upsetters
9. Big Neck Cut - Lee Perry & The Upsetters
10. Zeal Of The Lord - The Upsetters
11. Dub Of The Lord - The Upsetters
12. Returning Wax - The Upsetters
13. Bush Dub Corntrash - Winston Wright & The Upsetters
14. From Dub Four - Clive Hylton & The Upsetters
15. Roots Train Number Two - Junior Murvin & The Upsetters
16. Locks In The Dublight - Lee Perry & The Upsetters
17. Moonlight Version - The Upsetters
18. Dub History - Carlton Jackson & The Upsetters
19. Living Dub - Keith Rowe & The Upsetters
'Sound System Scratch' will be released on August 31 on CD and double LP. As a tasty preview, Pressure Sounds has pressed a 7" single that features an exclusive B-side. It's been a long time since anyone has put out a really Upsetting Lee Perry collection, so maximum respect to Pressure Sounds for making this one happen.