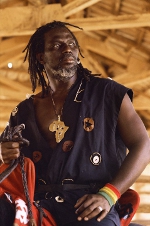 After 'L'Africain' in 2007, singer of the Ivory Coast Tiken Jah Fakoly is about to release his new album.
'African Revolution' is set to be released in late September by Barclay/Universal Music.
We invite you to listen to Je Dis Non !, the first single from this album and to watch the video from the album artwork photoshoot.
Video
Video: Tiken Jah Fakoly - Webisode n°1