"Natty Dread puts an end to its main activity, the publishing of the bi-monthly magazine dedicated to reggae music. Over the past 10 years, we've put out 62 issues, 5 special issues, put out a lost album of The Kingstonians, produced some 'Natty Dread Magazine dub plates' with the biggest artists (Capleton, Natty King, Johnny Clarke, Ken Boothe etc), launched a series of books about Jamaica,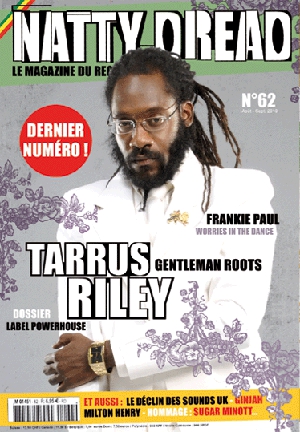 Jamaica Insula (an early History of the island, the French translation of Born' Fi Dead...), and even published some posters and post cards. Now, the time has come for us to take a rest. Not that the press crises has hurt us that bad, compared to other publications in France. Reggae music has some real hardcore and faithful followers amongst us. But the crises that affects music on a whole has been very pernicious to Jamaica. A few records come out nowadays, most of them mediocre. There is no "roots revival" in the island and reggae music resembles a ship who's lost her anchor, trying to survivre by aplying to the mainstream standards, then diluting its originality and strength. Tarrus Riley who graces our last front cover, is the proof that a mainstream reggae music can also bear some good fruits. But we came into this business in the midst of a spiritual and artistic tempest, the 90's, and we find it hard to sustain our enthousiasm today. Rather than getting bored - and to bore our readers -, we make the choice to end this adventure as it started, in a beautiful way.
Let me thank our partners, distributors (Presstaliss), all who made this magazine possible, starting with my friend Reggie Stepper, and all the actors of this music who gave us some of their time, supported our projects. Thanks to them, Natty Dread has always been more than a magazine to us, a dream come true. Thanks also to our team : Stéphanie Gehringer, Olivier Albot, Christophe Charuel, Quentin Esperse, Sébastien Carayol, JM Lemonnier, Bruno Célan, Ariane Remy, Carlos Rapéri, Beth Lesser, Dave Hendley, David Katz... Thanks also to all the people in Jamaica who have warmly welcomed us over the years - this has been a privilege.
Natty Dread, as a publishing company, does not disappear (Dread can't dead) and will continue publishing books about Jamaica (Jamaica Insula) as well as putting out some special issues from time to time. Our website remains active for the time being too.
Thibault Ehrengardt
Chief Editor
NATTY DREAD : www.nattydread.fr
Jamaica Insula : www.jamaica-insula.com"