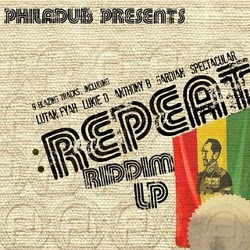 While Philadub Records may not exactly be a household name in the music, at least not yet, hardcore Reggae fans will undoubtedly recall the name as last year the label took themselves to the proverbial 'next level' by releasing one of 2009's biggest albums, the very strong 'Justice' from Lutan Fyah. Later in the year the boys at Philadub chased that album with another strong selection, the compilation album for the Mighty Right Riddim and while they haven't been particularly active thus far in 2010, they certainly haven't gone anywhere as is evident by there very strong new release, the Repeat Riddim.
Like its older sibling, the Mighty Right, the very crisp one-drop Repeat Riddim also featured on the 'Justice' album, backing Lutan Fyah's big tune, Show Me Some Love and that tune is on board here and Fyah isn't alone. Joining the lyrics from out of Spanish Town are big artists such as Anthony B, Lukie D, Gardian (a member of Philadub Records), Spectacular (an obvious favourite of the label) and others.
Fans who couldn't get enough of the 'Justice' album (and you know you couldn't) should be keen on picking up Philadub Records' Repeat Riddim and they can do just that on fine international etailers beginning August 10th.