Because of the fact that just a few short years ago he used to release albums at a rate of two, three or four per year, you may not have noticed that the once hotter than fire Turbulence hasn't actually had a studio album since a pair of less than stell releases in 2007, 'United' and 'Love Me For Me'. Well, he has now very quietly thrown his name back in the arena as he returns with his latest LP, 'The Journey' for the Jamaica based Sajay Productions.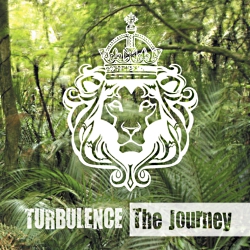 Almost as if it popped up from out of nowhere, surprisingly the album actually does seem to feature the very talented, but seemingly often unfocused Turbulence in a decent form and perhaps even more and should stand fairly well, by comparison, to at least some of his earlier work and definitely some of his uninspired drops of recent years. On board to ensure things trod smoothly on this 'journey' are veteran chanter, Perfect, Sajay's very own young artist, Rox Wayne as well as Beres' nephew, Lenn Hammond.
You might not have known it, but Turbulence's brand new album, 'The Journey', is gaining steam and has been available since late July and can currently be found in very limited CD and digitally across the globe via the digital wizards at Zojak Worldwide.