On the tail end of the Jamaican 'Roots Reggae uprising' of a few years back which included the rises to prominence of such big named artists like Tarrus Riley, Etana and Queen Ifrica was Duane Stephenson, an artist who, while not receiving acclaim on those lofty levels, certainly secured his place amongst many hardcore Reggae heads with tunes like the remake of Tyrone Taylor's classic Cottage In Negril and August Town. Those big tunes would appear on his very well received debut album, 'From August Town' in 2006 and ultimately lead him back again four years later, for his much anticipated sophomore solo release, 'Black Gold'.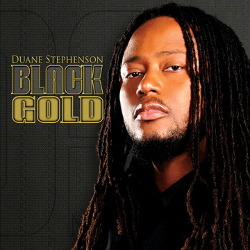 Just like the first album, 'Black Gold' comes via VP Records and features production work from the legendary Dean 'Cannon' Fraser. Also on board joining the August Town, Jamaica native are the likes of the incomparable Mutabaruka, the aforementioned Queen Ifrica, Gramps Morgan and the underrated Ras Shiloh, who chimes in on the Kemar 'Flava' McGregor produced Soon As We Rise.
Whether you caught on three years ago or back during his days as the frontman of the well respectable To Isis group, fans of Duane Stephenson can catch up to what he's been working on lately as the potentially excellent 'Black Gold' drops worldwide on September 28th.