And you thought it would never get here! Finally, one of the most anticipated albums of 2010, 'Shotta Culture' from legendary Dancehall DJ, Spragga Benz, is now available! The much talked about album comes via the BoomTunes label from the well respected and reputable producer, Salaam Remi and has all the makings of an album befitting someone of Di Benz' talents.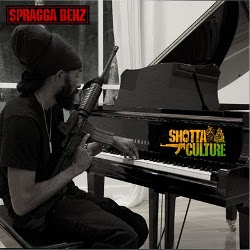 Originally considered 'just' a Dancehall artist, within the last few years Spragga has added a very refreshing level of spirituality to his vibes and the hard-hitting 'Shotta Culture', even at this advanced stage of his career, figures to catch the artist at the height of his craft.
But just in case, Spragga's brought along quite a few friends including the likes of Sizzla Kalonji, Stephen Marley, Shabba Ranks, Jah Cure, Queen Ifrica and Hip-Hoppers such as the legendary Nas and super-producer Swizz Beats. The album is also Spragga's very first studio release following the tragic death of his son, Carlton Grant Jr. in 2008 (almost two years ago to the date of the album's release).
This one is definitely not to be missed and 'Shotta Culture' from Spragga Benz can currently be found digitally via iTunes, exclusively worldwide.
Video
Video: Spragga Benz - Shotta Culture