On Monday October 25th 2010 at the HMV Hammersmith Apollo, London, some of the UK's finest young vocal & dancing talent will be celebrating the music of Jamaica's first super group The Wailers.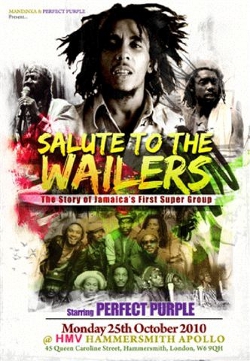 The evening, which starts at 7:00pm, will serve as a poignant reminder of why Bob Marley is still regarded by many as a poetic visionary and showcase just how the music of The Wailers has stood the tests of time and remains as fresh as the day it was recorded.
The show produced by Otis Kirton and Malinnga. Main is intended to be a complete multi-media experience starring Perfect Purple plus a full live band, dancers, on-stage screen visuals, a string section and guest vocalists including, Dionne Reid, Caspian, Hannah Khemoh, Mr Alexander & Antoinette Griffiths. It is hoped that the show will not only appeal to hardcore roots fans but music lovers of all types and ages.
Otis Kirton, the show's Musical Director, comments: "Salute To The Wailers proudly recognises the contribution of all the individual musicians who were responsible for creating the sound that today still remains the blueprint of reggae music. The sound of Bob and the Wailers evolved during a period spanning the 1960's through to the start of the 1980's. This period was reflected in the Wailers musical evolution, a period that saw 'Rhythm & Blues' and 'Jazz' become 'Ska' then 'Rock-Steady and finally 'Reggae'. Most songs of Bob Marley & The Wailers have key elements of all these styles and is what makes the music so special and unique".
A limited amount of £20 tickets are on sale until Sunday 5th September 2010, subject to availability. Thereafter tickets are priced at £26.