Fans of Virgin Islands Roots Reggae Queen, Dezarie, may be equally surprised and overjoyed to learn that extremely propular Cruzan born songstress has once again tuned in and done so to the materialization of her fourth album, the fittingly titled 'Fourth Book'.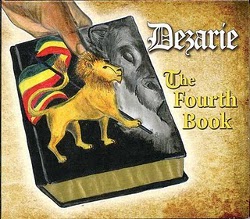 Dezarie doesn't tend to create a lot of fanfare, ostensibly, but she and her music always seems to generate so much love and so much attention from her ultra-devoted followers that one could very well make the case that this album is one of the more anticipated of 2010.
Like much of her previous work, 'The Fourth Book' comes via Midnite's label, Afrikan Roots Lab and is produced by Midnite member and mastermind, the well respected and downright genius Ronnie Benjamin Jr. Benjamin's production has always melded brilliantly with Dezarie's angelic vocals and she weaves her way through big highlights on the album such as Jah Know Better, Tryin To Be God and Children of The Most High, which are sure to thrill fans new and old.
You probably didn't know it as the album seemed to pop up from out of nowhere, but Dezarie's 'senior' album, 'The Fourth Book' is available on CD right now.