Interest in Trojan's next deluxe 7" single release is reported to be intense after initial single, Desmond Dekker & the Aces' Sentimental Reasons B/W Sugar and Spice, sold out within weeks of its release.
The next single has now been announced and will feature two Boss Reggae cuts delivered to Trojan back in 1969, courtesy of Vincent Chin's celebrated Randy's label.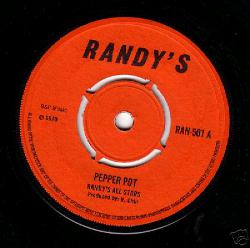 This double header features Pepper Pot, a killer instrumental from Count Matchuki & the Randy's All Stars and Lick It Back, a driving piece of classic Skinhead Reggae performed by Winston Samuels that makes its UK (and possibly world) debut.
This single will as before be limited to 250 copies and be manufactured using the best quality heavy-weight vinyl with each single also presented in hand numbered retro-styled sleeves.
Release date for the single is September 27th but can pre-order on Trojan online shop.