Former Jamaican cabaret singer, Bobby Tenna, is a name familiar only to a few of the most hardcore of Reggae fans, but hopefully his most recent venture will grab the attention of the greater Reggae listening community as the very impressive singer returns with his brand new sophomor album release, 'Words & Melody' for his very own WileFya Inc label. The album is a followup to Tenna's outstanding 2007 debut album, 'Give Thanx 4 Life' and it well figures to impress and resonate on similar levels.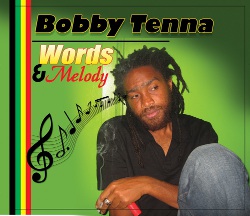 The very straight forward album is highlighted by familiar pieces such as Battlefield [on Kemar 'Flava' McGregor's big 83 Riddim], Nuff Nuh Mek It and Just Like The Wind, which features Fire Starr. Also, listeners are certain to take note of 4 The Hard Way, a big medley style tune which features the St. James born Bobby Tenna alongside the likes of Capleton, Anthony B and the legendary Garnett Silk.
Hopefully the album can see an even further increase in the status of an artist whose popularity certainly doesn't match his very high skill level and quality. Without delay, fans can hear why as 'Words & Melody' is available right now from WileFiya Inc.