Following outstanding releases such as the Higher Meditation, World Go Round, Show Love and most recently the Clearly Riddims, extremely promising US based label Itation Records is back at work again with their latest composition, the Ifficial Riddim, which they now bring forth as an album.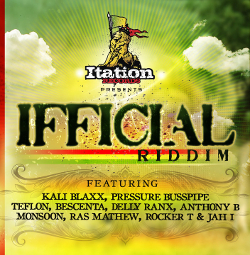 If their previous work is any indication (and it most certainly is), then this release will be another stellar piece as well.
Despite the fact that there aren't a ton of tracks on the Ifficial Riddim, Itation was certain to pack in the big names, as names voicing the riddim includes the likes of Anthony B, Pressure Busspipe, Teflon, Bescenta, Monsoon and Kali Blaxx. Also on board is Delly Ranx whose tune, Rasta Nah Bow appeared on his 2009 album debut 'Good Profile', also released by Itation.
Interested??? Of course you are. You can learn more about the Ifficial Riddim and get your hands on it as well beginning October 12.