Due out on Thursday, October 28th to be launched at the Bob Marley Museum - Legend Cafe is renowned Jamaican author, journalist, filmmaker and public speaker Barbara Blake Hannah's new book 'Growing Out', published by Hansib Publications, UK.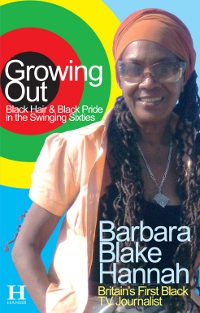 To help with the launch and speaking at the event will be Beverly Anderson Manley, the former wife of The Most Hon. Michael Manley, People's National Party (PNP) leader and Prime Minister from 1972 to 1980 and again from 1989 to 1992.
Growing Out is the autobiographic account of Barbara's early years growing up in Jamaica, where from childhood black women's hair influences their self-esteem negatively to time spent living and working in London during the Swinging Sixties.
It was while in London that she became the first black person to appear on British TV in a news capacity when she was one of 3 daily reporter/interviewers on the Thames TV daily magazine programme Today, hosted by TV personality Eamonn Andrews.
This job also made her national front page news and provoked racists to send daily hate messages to the station, which finally led to them bowing under the pressure and replacing her after only 9 months. This and other racism she encountered rather than dragging her down actually prompted her to seek education through black consciousness generated by the cultural, political and racial events of the time. The book goes on to describe how, with the aid of a narrative sub-story of "Mr. Jones" that illustrates the typical lives of Jamaican immigrants in the 1960s, these psychological and actual experiences led her to grow out her natural hair and take strength and opened her mind to the full knowledge of her racial history and promote pride in her natural self.
'Growing Out' is available online until August.