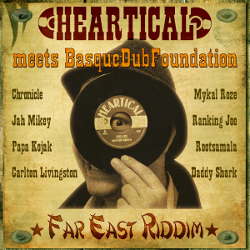 One of the most well traveled and arguably one of the most popular Reggae compositions of all time, the big and bad Far East Riddim, has made it to French shores courtesy of Heartical Records and the venerable Basque Dub Foundation and done so to the tune of four previously unreleased and unavailable songs on the classic from Studio One.
A constantly reinventing and resurging Michael Rose highlights this set with his tune, Downpressor and he's joined by all star veteran Ranking Joe, with Rastaman Talk, Chronicle with Sweet Sinsemilla and Carlton Livingston's Once Was A Man. Also on board are big tunes from the likes of Rootsamala, Jah Mikey & Daddy Shark and the incomparable Papa Kojak.
Heartical's take on the Far East riddim is multi-platform and is currently already available on 7" Singles and is set to drop digitally on October 15, worldwide.