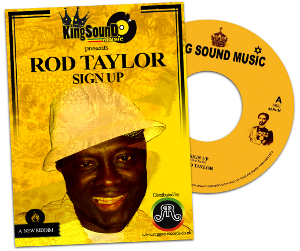 Fans familiar with those delicately sweet vocals of the legendary Reggae singer, Rod Taylor, should be well on the lookout for his big and bad brand new single courtesy of French label, King Sound Music, the gorgeous praising tune Sign Up. Perhaps best known for previous hits such as the classics His Imperial Majesty, Ethiopian Kings and Behold Him, the nearly forty-year veteran Rod Taylor has continued making wonderful material of a similar vibes and this release may just be his largest in quite some time.

In Jah garden there is so much vibes
And in His garden is paradise

Rod Taylor's Sign Up is currently available on 7"single from King Sound Music and if you really enjoy the riddim (and you will), reportedly it will also be release in early 2011 with a variety of different artists such as Jah Mason, Triston Palmer and more.