Lyricson. One could make a very strong case that, on all discernible levels, the wicked Guinean born singer/chanter is simply one of the most talented and capable Reggae artists on the scene today. He certainly hasn't been one of the most active, however, which makes his releases that much more important and because of that fans worldwide should be well interested in the fact that, on November 8, Lyricson delivers his much anticipated big and bad brand new album, 'Messages'.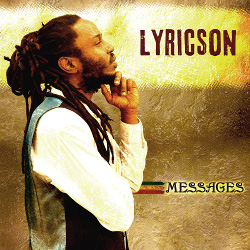 The album, which comes courtesy of PJK Entertainment [reportedly his own label], is Lyricson's third studio effort to date and is potentially his best complete piece of work as well. Amongst others, 'Messages' features tunes like Revolution, a combination featuring impressive Jamaican up and comer, Zamunda. There's also Glad You're Mine, a tune fans should know from the sublime Special Delivery produced Sugar Riddim and the album's first single, the powerful From The Beginning [which drops officially on October 25] is on board as well.
There couldn't possibly be anything better dropping on November 8 and even if there is do check out this big big release.
Video
Video: Lyricson - From The Beginning