So! You think that you can do one of Lady Saw's tunes better than later Lady Saw herself??? You're wrong (stop drinking), but it doesn't mean that you can't try . . . and in the process, give the rest of us something to laugh at, at your expense. The legendary Queen of The Dancehall, Lady Saw is currently holding a most interesting contest which offers her fans to receive some just as interesting fans from 'Mumma Saw'.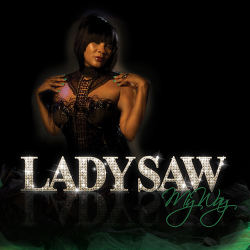 So what do you have to do? It's easy! On September 7, Lady Saw dropped her latest album, the very impressive 'My Way' - All you need to do is pick your favourite tune from the album and post a video to YouTube of you doing a rendition of one the song and tag it #ladysaw. Make sure your video is anywhere from 30 seconds to 3 minutes in length and you qualify. And while it may not get you the win, should you happen to be a middle aged man, or have access to one and could somehow pull off the tune Tighta, you will almost surely be given INSTANT immortality.
For everyone else, however, the prizes are -
The Top 3 Videos - A $250 AmEx gift card, a signed copy of the album and other Lady Saw merchandise.
Grand Prize Winner - All of that AND Lady Saw will personally call you!
The top 3 winners will be chosen based on number of views then Ms. Marion Hall [bka Lady Saw] will choose the grand prize winner herself.
So take your time, but not too long because the contest ends on November 15, 2010.
Want more info??? Here from The Queen herself :