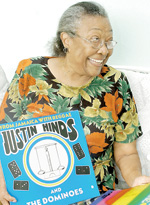 As reported by Jamaica Observer, Mrs Sonia Pottinger passed away this week. She was the most important Jamaican woman involved in music business and the first Jamaican female reggae record producer. Ms P. opened the Tip Top Record shop in 1965 and began producing local artists the following year. Her first single production was Every Night by Joe White and Chuck. She produced artists from the mid 1960s until the mid 1980s : Bob Andy, Marcia Griffiths, Alton Ellis, U Roy, Big Youth and Culture among others on her Gay Feet, Tip Top, Rainbow and High Note labels. In 1974, she bought Duke Reid's Treasure Isle label shortly before his passing.
The works of Lee Perry, Coxsone Dodd, Bunny Lee are rightfully celebrated, but Pottinger's productions were always top ranking.
Another sad news for Reggae Community. May the grand lady of JA music rest in peace.