Class is a trait which can do absolute wonders for an artist's career and one of this current generation's classiest of Reggae singers, Mikey General, returns with a classy brand new album, 'Born To Rule'.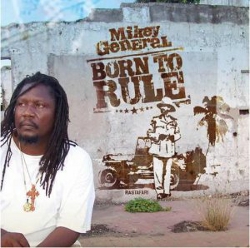 The album comes via the Qabalah First Music imprint which is ran by General and his 'spiritual brother', legendary vocalist Luciano in association with Domacran Music from out of Germany and, as is his norm, it is full of top notch spiritually inclined Roots Reggae music.
The General and Luciano (who also appears on a track) helm the project and, of course, they tap some heavy talent to accompany the singer so listeners should well look forward to musical accompaniment coming from the likes of the Firehouse Crew, Snowcone, Joe Fraser Records and most certainly Dean 'Cannon' Fraser.
A Mikey General album is pretty much sure to be winner so, if you happen to be one of the many smart individuals who enjoy good music, do feel free to check out his new album 'Born To Rule' from Qabalah First and Domacran Music beginning November 22.