It almost seems like a prerequisite when it comes to Reggae labels that each and every one needs to have a compilation through which to showoff exactly what they've been up to. Besides everything else they do, be it artist's albums and/or riddim albums, if you have a Reggae label and you release albums, then you should have a big mixed compilation with your work on it. Obviously that time honoured tradition is one which isn't lost on the boys and girls at the double-label Dutch label of Jahsolidrock and Not Easy At All Productions who waste no time at all in returning to the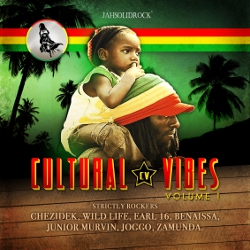 scene following the most recent release of their latest piece of work, 'Teach Them Right' by Apple Gabriel, with the big first installation of their own compilation 'Cultural Vibes'.
Hopefully it is crystal clear that this eighteen track set is full of examples of the heavy brand of Roots Reggae music the two labels have become known for, particularly in 2010. The album features artists such as Chezidek (of course), Mikey General, Earl Sixteen and even Junior Murvin mixing alongside Dutch standouts Benaissa, Lloyd De Meza and Joggo over fine and familiar riddims such as the Collie Weed, the Anybody, the Paradise and the United We Stand.
With Apple Gabriel's (and maybe even Chezidek's) album still on your players, you won't have to wait very long for another round of Jahsolidrock and Not Easy At All as their 'Cultural Vibes Vol. 1' compilation is set to drop later this month.