February 15, 2011 is the latest expected release date for an album which has been discussed seemingly from the beginning of time [all-time], 'Bushman Sings The Bush Doctor', which finds the current Reggae star singing some of the greatest hits of one of his idols, the legendary Peter Tosh.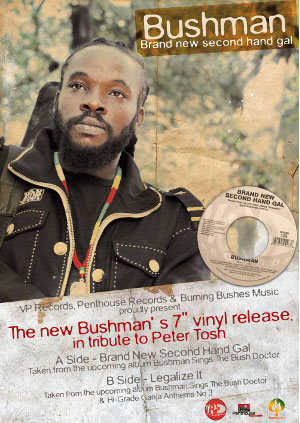 And while fans across the globe eagerly anticipate that release and wonder if it will really reach on that day, Bushman has offered a bit of stability and certainty by recently dropping a couple of selections from the forthcoming album, Brand New Second Hand Gal & Legalize It.
The release comes courtesy of industry leader, VP Records, Donovan Germain's venerable Penthouse Productions and the Bushman's own Burning Bushes Music imprint. And while Brand New Second Gal makes its very first appearance, Legalize It also appears on the recently released 'Hi-Grade Ganja Anthems Vol. 3' album from Greensleeves.
Brand New Second Hand Gal and Legalize It are currently available on 7" Single and certainly the album will be amongst the most awaited in the new year.