Last year one of the most impressive, yet underrated, names in Reggae music, singer Mark Wonder, released a power packed album which featured himself alongside some of his most well known peers in a collaboration style.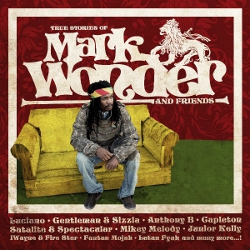 That album, 'True Stories of Mark Wonder & Friends', went far too overlooked by many as it was only released digitally and not given much promotion at all, so many fans didn't even know it existed.
So, if you missed it the first time around, the amazing voiced Mark Wonder has teamed up with the very reputable IrieVibrations from out of Austria and Groove Attack to re-release 'True Stories of Mark Wonder & Friends' digitally as well as on CD this time around and do so with two new songs as well. Joining the Kingston native is an outstanding lineup which includes the likes of Sizzla Kalonji & Gentleman [on the same tune, Don't Worry], Luciano, Lutan Fyah, Capleton, Anthony B, Fantan Mojah, Chezidek, Ziggi Recado and more!
The album, which was originally produced by Jamaican label Al.Ta.Fa.An, arrives back in stores on November 26. Do not miss it this time around.