While it hasn't been very long at all since 'The Messenjah', Reggae legend Luciano, released an album [only a few months actually], having even more of the famed singer can be no bad thing and credit has to go to the US based Footprintz Music Group for releasing his latest gem, 'Write My Name'.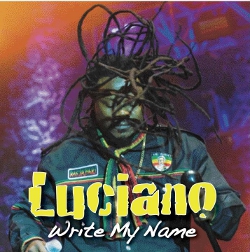 While his last effort, 'United States of Africa', certainly brought in a great deal of attention, it is this independent release which may just prove to be the better of the two projects.
'Write My Name' is headlined by its outstanding title track which features Luciano, specifically for himself and just in general, remarking on how important it is to give due credit to the artists who make this wonderful music while they are still living and able to appreciate it. The course of the album follows the same high level spiritual material which fans across the globe have come to expect and love from the singer.
Collectors should be well interested to know that the CD version of the album also includes a DVD full of interviews with Luciano and other nice features as well. Luciano's brand new album, 'Write My Name' from Footprintz Music Group, is in stores now on CD as well as digital release.