The pure-singing style of Britain's Studio 1 protégé Alpheus has been absent from a long-playing release since 2007's Special Delivery album 'Everything For A Reason'.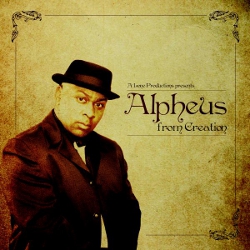 Now, at long last, he is back with follow-up 'From Creation', and a surprising change of direction - which he insists is permanent.
Produced by Roberto Sanchez for A-Lone and FAK Records out of Spain, the album is entirely devoted to ska and rocksteady sounds. Classic rhythms abound from the Wailers to the work of the criminally underrated producer Phil Pratt. The backings to his instrumental Dirty Dozen and vocal Little Things (originally sung by Hemsley Morris) have been painstakingly recreated by Sanchez - as if Pratt had been given access to the clarity of modern recording equipment back in the day.
Alpheus explains, "I kept quiet for about 18 months after the album for Special Delivery. I only went on one one-drop riddim for a label in Nantes called Metastone and that was my last one-drop. I'm not doing that any more. Now it's only ska and rocksteady - music that's long lasting".
Whether Alpheus sticks to his plan or not, 'From Creation' is slated for a January 18th cd or download release.