With a studio album, 2008's 'Get It In Your Mind', a live album, 'Live In Paris' from 2009, and a healthy stream of singles to his credit, the last few years haven't left a great deal to be desired from outstanding veteran Jamaican singer, Bushman.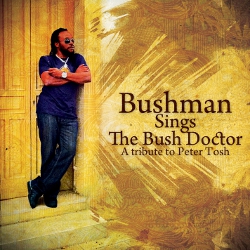 Still, over that same time the most discussed of his projects was one which had yet to actually materialize but had been in 'the works' for quite some time - The singer's tribute album to the legendary Peter Tosh, 'Bushman Sings The Bush Doctor'.
The album features Bushman singing some of Tosh's most well known tracks such as Legalize It, Stepping Razor, Equal Rights and more. Also, joining the Bushman are Reggae stars Buju Banton and Tarrus Riley on the album which features production from Penthouse Records and comes via VP Records and marks the first time the big label has released material from the St. Thomas native since 2004's very well received 'Signs' album.
Barring yet another delay, the hotly anticipated 'Bushman Sings The Bush Doctor' is set to be released on 12 track CD and with 3 additional tunes digitally, on January 25th.