Have you ever asked yourself how Virgin Island Reggae superstars Vaughn Benjamin & Midnite manage to release 200 albums each and every year and not one of them, ever, has managed to attract the attention of the industry's leading label, VP Records?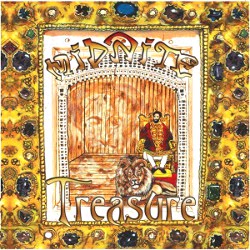 In fact, the label hasn't stepped into the region very much at all, despite the existence and activity level of seemingly very marketable names such as Pressure Busspipe, NiyoRah, Ras Attitude and others. Well, hopefully 2011 will begin a change in that because, along with Rastar Records, VP is on board with 'Treasure', the very first album release from Midnite this year.
If you're unfamiliar with the band (shame on you) typically what happens with the vast majority of their huge number of releases is that Midnite - The Band - is absent and is 'represented' by the vocalist and brilliant song writer, the walking genius that is Vaughn Benjamin. And while that also figures to be the case on this release, it's never hurt their popularity as the band maintains one of the most fervent fanbases to be found in the entire genre of Reggae music.
Those fans will surely be most interested on January 25th as 'Treasure' drops physically and digitally from Rastar and VP Records.