Perhaps not quite on the international levels of Damian Marley teaming up with Hip-Hopper Nas on last year's 'Distant Relatives' - But more educated and familiar fans of Dancehall, Reggae and definitely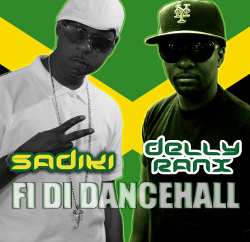 Lover's Rock might be happy to hear that veterans Sadiki and Delly Ranx are linking to create an album of their own, 'Fi Di Dancehall' on Sadiki's very own Skinny Bwoy Records imprint.
Certain to capture attention here is the fact that the album appears to be somewhat random in that the two artists aren't exactly known for a long history of working together but, as tunes such as Girlfriend, Showoff and Dancing Forever show, there's clearly some musical chemistry between the two which can hopefully translate well into a big album early in 2011. The project also features fresh solo material from both so general fans of the artists should take an interest as well.
'Fi Di Dancehall' from Sadiki and Delly Ranx is probably one of the bigger named artists of the early year and fans can get their hands on it on February 8th.