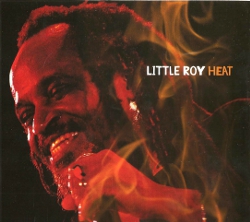 Fans of the veteran singer Little Roy and London-based roots label Pharos may rejoice: 'Heat', their long awaited follow-up to 2006's 'Children Of The Most High' will be released on 18th March.
The album features the legendary rhythm section Mafia & Fluxy on bass and drums and Pioneer George Dekker on harmonies. It was recorded at Stingray studio, produced by Roy, Mafia and Fluxy and mixed by Prince Fatty's Mike Pelanconi. Extensive sleeve-notes come courtesy of reggae writer John Masouri, no less.
As with 'Children Of The Most High', the former 12 Tribes man has recut some of his vintage sides, including the much sought after Tafari Syndicate 7" Jah Can Count On I. Smoke free and in better voice than ever, Roy swears it's an improvement on the original! Have a listen for yourself before 'Heat' drops in two months time...