Attempting to followup what was an excellent year 2010 is impressing German label Oneness Records who gets 2011 off to a very nice start with their first production of the year, the Backstabber Riddim. 2010 saw the same label doing very big things in the form of releasing not only the solid and well received Soul Riddim, but also album of the year candidate 'Long Journey' by Naptali, so the expectations for the label and the new riddim are very high.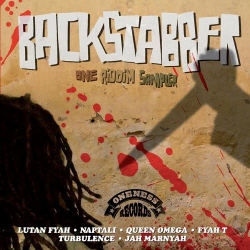 The Backstabber is a heavy Roots set with a bit of an old school edge, yet there is something undeniably modern about it as well. Tapped to voice the riddim is, very quietly, a blistering line up of artists who'll never stab you in the back such as Jah Mason on the riddim's title track with Fyah T, who had a hand in the production of the riddim, Turbulence, Lutan Fyah, Prezident Brown alongside Raymond Wright and the aforementioned Naptali. AND - Listeners can also look for efforts from the incomparable Trini Queen of Reggae, Queen Omega and the fiery Jah Marnyah from out of Montserrat.
That ridiculously impressive group of names is already at play as the Backstabber Riddim via Oneness Records is in stores now.