With 2010 not having been the most active of years for Kemar 'Flava' McGregor and his No Doubt Records imprint, in terms of riddims, apparently they're trying to get 2011 started quite early with their latest release, the much discussed Throwback Riddim.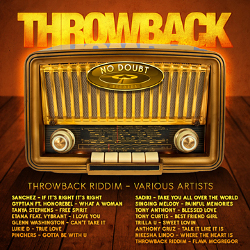 Fans of the label's work (which should pretty much be everyone at this point) might recognize the riddim as, much like the last release from the label - the Dance Drop Riddim - McGregor once again mines one of the deepest vaults in modern reggae existence for the Throwback Riddim which appeared on Gyptian's debut album from 2006, 'My Name Is Gyptian'.
As usual, No Doubt has assembled a very impressive roster of artists for this sweet riddim as joining the aforementioned Gyptian are the likes of Honorebel (on the same song actually), Tanya Stephens, Etana [alongside Vybrant], Glen Washington, Nikesha Lindo, Pinchers and even Sanchez.
Like everything else they've ever done ever - The Throwback Riddim from No Doubt Records is currently exclusively available at FlavaMcGregor.com.