On August 19, 2006 the Reggae music worldwide community lost one of its pillars when the great Joseph Hill of Culture made his transition. Culture, one of the greatest and most respected groups in the history of Reggae, however, did not pass with him and instead, Hill's son, Kenyatta Hill took over fronting the group in his late Father's absence.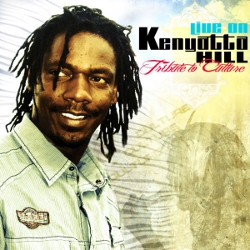 In late 2007, the album 'Pass The Torch' was released which featured both elder and younger Hill on vocals and now things are taking a rather large and prominent step forward as Kenyatta Hill flies solo on 'Live On: Tribute To Culture' which is scheduled to be released on February 8 across the globe.
The album features Kenyatta Hill singing some of the great Culture songs from through the years such as International Herb, Two Sevens Clash, Iron Sharpen Iron and eleven more timeless pieces. Also, 'Live On' is actually produced by Dean Pond and his Rymshot Productions imprint. Pond is more known as a producer of Virgin Island Reggae talents [he produced 'Coming Back For You' in 2009, the most recent album of VI superstar Pressure Busspipe], but his skills are absolutely unquestionable, having worked with and developed some of the biggest names in the region, so these classics rest in mighty hands.
The masses of Culture fans around the world are sure to want to get their hands on this gem which also comes digitally via Zojak Worldwide.