You're sure to be quickly forgiven if you haven't noticed but - Reggae star Anthony B has recently (and very quietly) released a brand new album, 'Rasta Love'. The release comes without almost any substantial type of press and news whatsoever, but it is, ostensibly, a really big deal and clearly a great amount of attention has been paid to detail as the album features the likes of Peter Tosh, Gyptian, Ky-Mani Marley and others.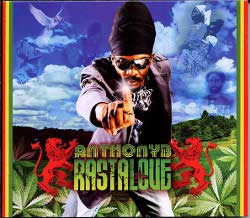 'Rasta Love' was an album first rumoured to be released by VP Records in 2010, but it is now ultimately delivered to the masses via the chanter's very own Born Fire Music, where it becomes the very first release since 2008's very well regarded 'Life Over Death'. And it also features well known singles of recent times such as Love Is The Answer, Blame It On Yourself and even Sweet Jamaica.
So while no one else may be talking about you can start on things and have a listen to an album from a genuinely big artist in this very young year as Anthony B's 'Rasta Love' can be found in stores right now.