Nick Manasseh has been creating, producing and remixing reggae since the late '80s when with the aid of The Equalizer he dubbed the Millennium. Now he is bringing out "The Reuben Rhythm", which is showcased on two limited edition 7inch vinyls plus the usual digital download option through Roots Garden records.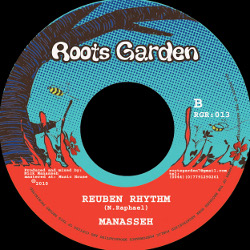 The riddim is a predominantly digital drum and bass with the beat having the feel of the Get A Lick riddim, made popular by Shinehead on 'Billie Jean'.
On the first single Manasseh has draped over the top of this two vocals, with London based reggae and soul artist Ruben Da Silva giving the riddim a rootsy slant on 'Jah Reign' and Cate Ferris, who is an acoustic artist similar to the likes of Dido giving an evocative performance on 'Minus 2 Degrees'.
The second single is titled 'Good One' and another London based artist Dark Angel this time brings dancehall, singjay chat to the song with a dubwise from Manasseh himself just to complete things and allowing the delicate pitter patter of the dancing keys more prominence.